Advances in preventative maintenance help avoid costly future crane repairs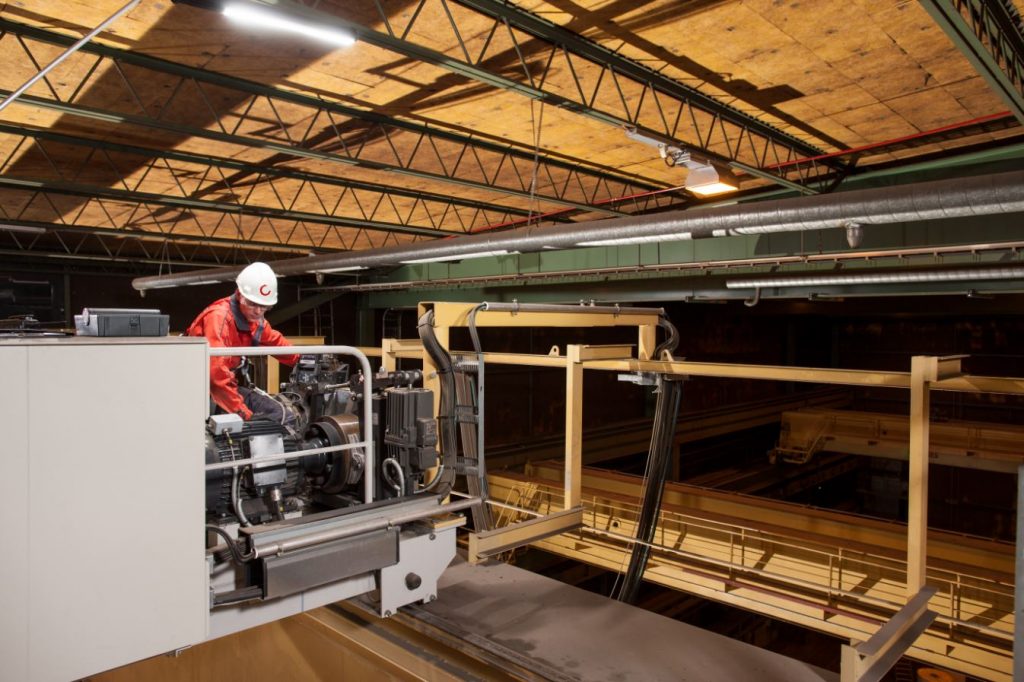 A Konecranes engineer performing a Major Assessment
Gone are the days where a fault would present itself, and then you'd call in a technician to fix it. The crane would be isolated and taken offline until the issue was identified and then repaired, creating costly downtime for busy facilities involved in manufacturing, materials handling, food and beverage, power generation, mining and a huge range of other industries that just cannot afford unnecessary downtime.
Konecranes has always had a corporate culture of putting safety first and advocated for an intelligent preventative maintenance programme over a "fix it once something breaks" approach.
Preventative maintenance isn't just an investment in crane performance, it's an investment in safety too. All companies want every employee and visitor to return home safely at the end of the day, and preventative maintenance is an ideal way to keep crane machinery operating at optimal levels of safety.
Major Assessments
Major Assessments are a vital part of an ongoing preventative maintenance programme and a requirement of AS2550.1 2011 Section 9. They aim to identify maintenance needs and can identify items that require repair before they fail.
As per their classification, crane machinery is generally designed for ten years of operation, and crane structures for 25 years. For companies looking to extend or change their crane's usage, calculate remaining design life and maintain top levels of safety and Standards compliance, Konecranes can perform a Major Assessment.
A Major Assessment is particularly useful if production needs are changing, and the crane's usage is likely to change as a result. It can provide a detailed overview and show whether the crane can match the updated operational needs.
The assessment looks at structures, mechanical components and electrical systems, and highlights possible maintenance, modernisation or upgrade needs. Steps involved in the process include:
A team of Konecranes specialists observes the production and operating environment of the crane
The overall condition of the crane structures and components is evaluated in detail with a focus on safety, productivity, reliability, usability and remaining design life
Operators and maintenance personnel are interviewed, and all pertinent documentation is reviewed
The team provides a detailed report and further consultation with advice on maintenance, modernisations and future investments
Preventative maintenance is key to optimising crane safety and performance, says Konecranes Engineering Manager, Thomas Schnittger, pictured.
Crane optimisation technologies
In addition to Major Assessments, Konecranes now has a raft of advanced technology available to remotely monitor cranes and identify the early warning signs before they turn into performance issues.
Technologies like Konecranes' TRUCONNECT® Remote Monitoring and Reporting can look more deeply into a crane in real-time to identify areas that need to be serviced, or find efficiency gains that were previously unseen from the outside.
As the world's largest crane service organisation, with more than 600,000 pieces of lifting equipment under service contract worldwide, Konecranes has extensive experience ensuring cranes are operating at peak efficiency and productivity.
Konecranes Consultation Services include Gear Case Inspections, RopeQ™ Magnetic Wire Rope Inspections, CraneQ™ Geometric Surveys, RailQ™ Runway Surveys and Operator Training.
Covid updates
Crane safety and compliance to Standards are two things that cannot be overlooked, even as Covid-19 changes the way businesses work across the globe. Konecranes will still be performing Major Assessments and other important preventative maintenance work, to keep cranes operating efficiently, safely and comply with Standards. Our teams have been trained in heightened hygiene practices, and will comply with all site procedures such as temperature checks, sanitising and wearing appropriate protective clothing.
Additional Information:
For more information in Australia, please contact:
Konecranes Sales and Marketing, 14-16 Heald Rd, Ingleburn NSW 2565, ph 61-2-8796 7666, fax 61-2-9605 4336, email sales.australia@konecranes.com
Sales inquiries 1300 937637 (Australia wide) or visit our website www.konecranes.com.au
For inquiries about this media release, please contact:
Jack Mallen-Cooper at Whyte Public Relations Pty Ltd
Ph: +61-2-9901-4306 Email: whytepr@whytepr.com.au
About Konecranes, Inc.
Konecranes is a world-leading group of Lifting Businesses™, serving a broad range of customers, including manufacturing and process industries, shipyards, ports and terminals. Konecranes provides productivity enhancing lifting solutions as well as services for lifting equipment of all makes. In 2018, Group sales totalled EUR 3,156 million. The Group has 16,100 employees at 600 locations in 50 countries. Konecranes shares are listed on the Nasdaq Helsinki (symbol: KCR).