5 Largest CRAWLER Cranes In The World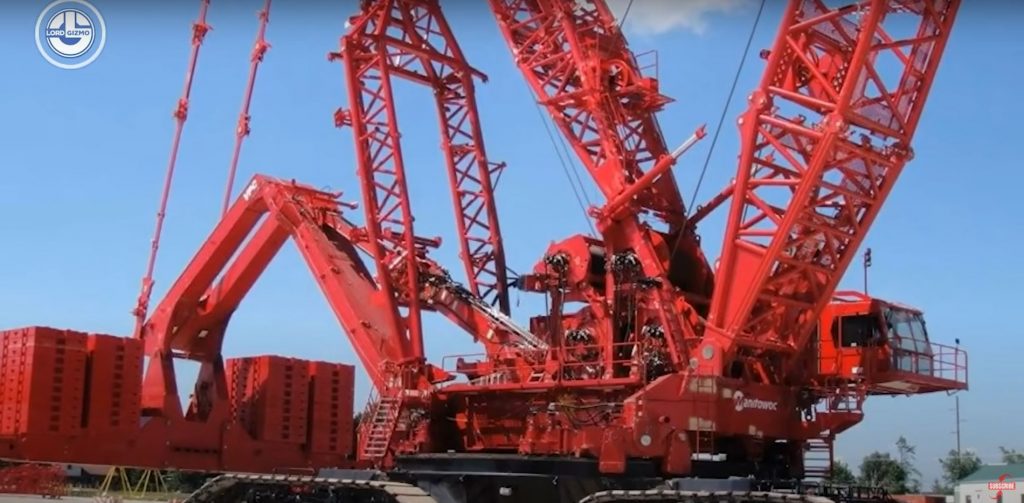 Welcome back to another video from Lord Gizmo. Today, we will show you five of the largest cranes in the world. Stick around till the end to find out more about the crane that's 750ft tall
The SCC40000A
This a super large tonnage crawler crane built by Sany Limited. It is also the largest tonnage crawler crane in service in the world. Built for construction needs, 90,000-tonneit has a maximum lifting capacity of 4000 tonne and a load rating of 90,000 tonne metres. This crane holds more than 20 patents. It has a superlift counterway trolley with double crawlers. Its walking system is made up of four crawlers and a grand total of eight drives. Recently, this monster achieved another milestone by lifting up a 1500 tonne single load. It was a complete propylene tower, erected for a rubber factory.
LIEBHERR LR 13,000
LIEBHERR LR 13,000 is the world's most powerful conventional crawler crane. The major purpose of developing this beast was to move extremely heavy weights. This monster is often required at the construction site of power plants and in refineries as well, where industrial columns weighing 1500 tonnes and measuring 100 metres in length have to be erected. Can you imagine? With each weighing 70 tonnes, this gigantic crane can be transported at a low cost throughout the world, despite its large size. Along with all this, the LR 13,000 is the only coral crane that can also operate without a Derrick ballast in its class.
XGC 88000
Next up, we have another world record-holding crawler crane, the XGC 88000. This mighty machine has made a successful debut by lifting and placing a 2000 tonne of Washington tower vessel. The crane lifted and positioned the upper half of the tower to allow it to be welded to the bottom half at the height of 50 metres and with less than 20 millimetres allowance between the two sections. This beast boasts three pioneering technologies, six world-leading technologies and more than 80 national patents. Its total hauling capacity is 4000 tonnes and has a 120 metre long boom.
TEREX CC8800-1TWIN
The TEREX CC8800-1TWIN comes with a lifting capacity of 3200 tonnes. The machine stands 234 metres tall with a 156 metre long boom. It is equipped with four hoist winches, a boom Derek with two inches, a boom hoist, a luffing jib with two winches and a slewing mechanism. All rogue drums have hydraulically released, multidisc and nonwearing hydraulic braking for load lowering. Rope ends of all drums are provided with quick connect rope end fittings. The booms and jibs can be combined to create three different working configurations.
MANITOWOC 31000
The MANITOWOC 31000 is able to safely lift any weight up to 2300 tonnes. It comes with a self-supportive counterweight system that minimises the Crane's footprint and needS for ground preparation. The machine boom is 42 metres long, whereas its heart comprises of 2600 HP humans engines, creating a total of roughly four 4000 pounds of torque and takes fuel from a built-in 600-gallon tank. Due to its compact size, it can easily be moved at the job site. For the operator, the Insulated Cab is equipped with large safety glass windows, a tablet style personal computer, a fire extinguisher, a one-way loudspeaker, dome lights and a defroster fan. In short, the 31,000 is at another level.